Come close …. I've got a secret to share …
Are you ready? Now, please, please, please do not repeat what I'm about to tell you. Okay?
I
used
to
be
a
scrapper.
Phew, I said it out loud (uhm, kind of).
Now you see there isn't anything wrong with being a scrapper (tell me you've seen 'New in Town'?!?!). In fact quite opposite, I *big fat puffy heart* scrapbooking. And I loved doing it … when I did it. But it always felt like SO much work. Ya know? And then as my little got bigger and needier and into more … well my time for scrapping got less and less and the guilt more and more.
Then I found digital scrapbooking. And hey, things were looking up. I could design on the computer in short little bits of time with no mess to deal with and the wonderful power of CTRL-Z (as in un-do). And this lasted for awhile, but I started to miss the feel of paper and the smell of glue sticks. So I went to 'hybrid' scrappin.' A cross of the two … and I liked it and did it. For awhile.
Until sewing stepped in … and well, it's all been history since then.
I still have high hopes of getting back to it, I still feel guilt about it and still have a lot of stuff taunting me as I sew :).
Wow, that was a really long introduction to today's giveaway which is brought to you by a very talented digital artist, Michelle Underwood. If you dabble in the scrapbooking world at all you recognize her name … but, if you don't recognize her name how about 2P's? Yep, she designs for Two Peas in a Bucket.
I am totally smitten with her work and have been working on incorporating her designs on my re-vamp of the Knitty Bitties blog. Like the new header? I created it with Michelle's designs (now if I could just figure out how to switch out the background) …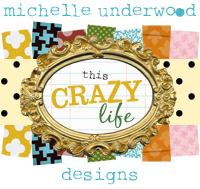 So let me share a little more about Michelle …
A little about you?
Hello, I am Michelle Underwood. I am a Digital Scrapbook Designer at Two peas in a bucket, and I also have a blog called "This Crazy Life". I have 3 boys ranging from 7 to almost 14. My husband and I have been married for 7 years (together for 10) and he works for Pepsi Mid America. We live in a small town in Tennessee. We have only 1 traffic light. It shuts off around 9:00 every night. lol. When I tell people around here what I do they don't have a clue what I am talking about!
How did you get started creating digital designs? Do you have a background in graphic arts?
I am a self taught digital scrapbook designer. I started studying online and utilizing tutorials until I finally got a grasp on how to create my own papers and elements. I started creating in 2003. I started selling my designs when Scrapbook-elements opened it's doors in 2004.
Favorite Color Combination?
I love lime green, teal, yellow. I have to say, right now I am digging yellow and gray together.
Favorite kit you've designed in the last year?
My favorite kit is "That was Yesterday"

"Vintage Holiday Memories" is a very close second.

Favorite piece of clothing right now?
Hmm, that's hard. I like shirts with ruffles. I have been on a kick. I can't narrow it down, it's like choosing which kid you love the most. lol!

Are you as smitten as me now? Get ready to be even more smitten because Michelle is offering ONE OF YOU a $25 gift certificate toward her designs. Seriously? Seriously. And you DO NOT have to be a scrapbooker (although I *might* admire you more if you are) to win. As you can see, even a former-scrappin' fool turned sewing machine can still put her designs to good work.
To enter:
– Tell me what your favorite piece of clothing is right now
For more chances (please leave a separate comment for each):
– Follow Michelle on Twitter
– Follow Michelle's Blog
– Be a fan of Michelle Underwood Designs on Facebook
– Tweet this – Win a $25 GC to Michelle Underwood Designs (@MrsCrazy) on @KnittyBitties today! http://bit.ly/bJSdwT
A winner will be selected (by Mr. Random.org) next Wednesday, September 1st.
And a gift for everyone … Michelle has a FREE kit available at 2P's right now. Go grab it!!
Happy Creating … how ever you create!
P.S. Double the fun … You'll want to go check out her blog … I *might* have a little giveaway going on over there too!