Gosh this has been another fun week, hasn't it? I sure hope yours has been as good as mine.
Aside from all the giveaways, tutorials, ruffles and such here at Knitty Bitties, I've been enjoying the last few days of summer break with my little guy. Next week he heads off to first grade!! This mama has a long to-do list to keep my mind busy and my heart from breaking for those long 7 hours we'll be apart. Anyone else have good mam advice/encouragement for your one and only entering the big world of 'all day' school?!?
Okay, before the tears start … let's move onto fun stuff :D.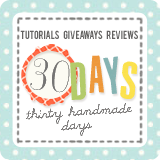 Like the Knitty Bitties feature over at 30 Handmade Days. I've had the pleasure of getting to know Mique (the blogger behind 30 Handmade Days). Did you know she and Jessica of Allora Handmade are sisters? Seriously, how is that even fair to have all that talent in one family?!? Mique is lucky enough (so jealous) to have an iPad and sweetly offered to give a little review on my new gathered ruffle iPad cover. Go take a peek at what she has to say, enter yourself into a little giveaway (say what? Another giveaway … uhm, yeah!) AND get inspired by reading all the fabulous 'Funner in the Summer' posts.
Oh and did you see?
My 'knit-ty receiving blanket' tutorial popped up on One Pretty Thing yesterday. Happy, Happy … check out all those other fun DIY'ers. And don't forget to enter the giveaway for the blanket and 1 YD of knit fabric!
Lastly … go check out the shop … some of those orange & aqua goodies are popping up in the shop today.
Happy Creating & Happy Friday!!